ROD
9-10 foot
7-9 wt. graphite rod
LEADER
9' tapered with 0X to 3X tippet
LINE
floating or sink tip
FLIES
Moe Egg, Bead Egg,
Deep Six Egg, Situk Egg,
Glo-bug, Fat Freddie,
Polar Shrimp,
Mystery Shrimp,
Electric Orange Leech, Alevin, Rainbow Deceiver,
Thunder Creek, Sculpin,
Egg Sucking Leech.
BOOTS
Waders preferred
Steelhead Season
Early March - Early May
Miscellany
Raingear
Bug Dope
Polarized Glasses
Sunscreen
Camera
Bear Bell
AOJ References
STRATEGIES
Alaskan Sculpin
TIPS
Less Is More
Making an Egg Sucking Anything
ADFG Regulations Book
ORDER Free Online
My Annual "Once in a Lifetime Trip to Alaska"
Having the fortune/misfortune of my fishing partner moving to Alaska opened up a new world for me. Brad Hanson has now lived in Wasilla for five years. Each year we make an annual rendezvous in Yakutat to fish for steelhead. I fly up from Salt Lake City, and he flies down from Anchorage; there we meet up with Bob Woolsey (retired Anchorage fireman) who flew down earlier to set up camp awaiting his son Kevin's arrival in a few days.
Anxious to fish we hurried to set up camp; grabbed some Cliff bars and started on the trail system up river. We hiked about 1 1/2 miles and began to sight fish. As I was working upriver Brad yelled, "Fish on!" He already hooked up with an ocean-bright hen melting line off his reel. Being no stranger to steelhead Brad worked this fish out of logjams and deadfall to open river where the fish finally surrenders for our measurement and release. After all this excitement and collecting my thoughts, I notice the coastal Sitka spruce, the gin clear river and think to myself "I made it back and I'm on the river and have six days of heaven ahead." Fishing until we no longer can see our targets, we walk out in darkness through familiar river, knowing how lucky we are, and realizing life could not get any better, that this should only be allowed once a year.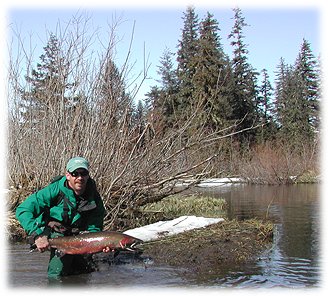 Brad Hanson is probably the most knowledgeable and generous fly fisherman on the river, and a very close friend. For the many hours he spends on the river, he will spend even more time learning about his quarry and their habits. Brad is the nucleus of our trip by putting it together to make it happen.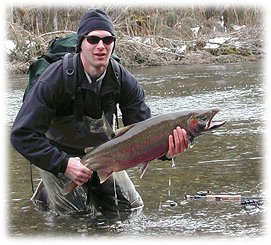 Bob Woolsey joined our group last year, and after a 3-day learning curve he became effective and successful steelhead fisherman. He brings a certain energy and life to camp. He has a story and a joke for every occasion. Kevin, Bob's son joined us 2 days into the trip. He is immediately likeable and possesses a certain charisma, with legs of a deer and a heart for adventure. Kevin and his dad made a great team.

[Right: Kevin Woolsey with Spring steelie]

Steelhead (Oncorhynchus mykiss) migrate into the river from the ocean for their annual spawn. Males generally travel in the river system in late fall and winter over, while the females migrate into the river in early spring. Because these fish return back to the ocean after spawning, unlike salmon these fish may return 3 or 4 times in their lifetime. This will result in big fish. On average a first year spawning fish will be 27 inches in length, second year fish may be 32 inches, and third year fish may be 35 inches or bigger. These fish will get between 10 and 25 pounds. The mortality rate is low because of the short distance to the spawning grounds. They first enter the gauntlet at the confluence of the ocean mouth where seals await, then the otters, and finally the fishermen. Luckily they are by and large catch and release anglers who love these fish as much as fishing for them. With this catch and release policy the steelhead will continue to return year after year. Ocean-fresh fish have a mindset of spawning, and stop feeding which makes them tough to catch with traditional patterns. When you do hook into one of these fish hang on, you're going for a ride, and at this point a neuron misfires in your brain that will bring you back year after year.
Steelhead can be surprisingly easy to catch or down right stubborn. Generally our tactics include a two fly system: one being the egg and the other being the Woolhead sculpin. Using the high stick method of nymphing, and paying close attention to line mending with the long drifts has been very effective for us. Jim Teeny quoted, "If I spot 'em, I got 'em." This is generally true, but not always. Steelheads migrate up river in groups. As we walk up the river sight fishing we usually start with the fish closest to the tail out being careful not to line the fish in front and work our way up.
After four years of fishing on the same river system, we have found the best places to fish at the best times of the day, and armed with the right gear. The fly rods we use are premium seven weights with floating lines and fluorocarbon tippets. The garb is breathable waders, fleece pants for warmth, and nylon supplex shirts to dry quickly after hiking. The flies we have found most effective are: Situk Egg (Brad Hanson special), Moe Egg, and the Woolhead Sculpin. Bob Woolsey tied up fourteen dozen of the Woolhead Sculpin knowing how many he would use. Refer to the CHECKLIST column at left for links to the fly patterns which have been proven to be effective on Alaska's steelhead.
To make the trip affordable we set up a base camp. The Yakutat region receives an annual rainfall of 175 inches a year. We have learned to bring the highest quality gear -- four season tents, Gore-Tex jackets and socks -- we set up a couple of portable tables and a huge tarp to stay under while it is raining (which is frequent and substantial). Bob took our trip to a new level this year by bringing a wall tent equipped with a wood-burning stove for drying our gear. Before the trip Bob prepared all the meals which he vacuum seals in plastic bags and freezes rock solid. When we have a late night of fishing, you just boil water and put in the bags to heat. Then by the time you take off your waders the food is hot and always tastes four star. This is huge when you don't return to camp until 11:30 at night.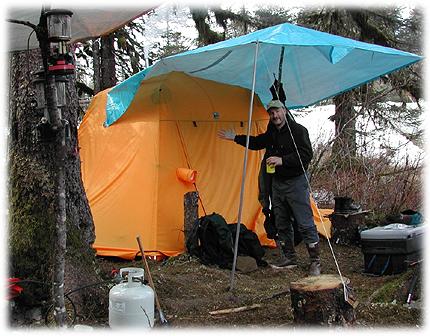 The river, which boasts a large sea-run rainbow population, is located in the Tongass National Forest area of Southeast Alaska. The river flows from the Saint Elias range of mountains and ends in the Pacific Ocean. In the spring the water is clear and a balmy 38 degrees. The flora surrounding the river is old growth Sitka Spruce and is lined with alders. Most of the time you are walking trails that bears have used for hundreds of years, or using the stream itself as your trail. Eagles, otters, mink and the occasional costal brown bear are all very common wildlife, and at night the wolves' howl, which begs of wilderness. The river bottom has rocks the size of silver dollars: perfect for spawning steelhead, and later in the season a proliferation of other species of Pacific salmon use this river system as well.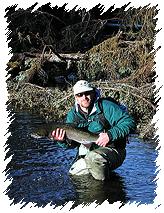 The year of 2002 Yakutat had a veritable hurricane move though, and many large shallow-rooted trees along the riverbank were blown down making the area look like a maze of giant pickup sticks. These large trees that were toppled have provided protection for the fish, and a challenge for the fishermen. Areas we became so familiar with that we put names to -- Brad's Straights and Todd's Run -- are now un-fishable. Just walking the stream has now become a giant obstacle course which requires sturdy waders to prevent rips and tears as we climbed over, around and through the gauntlet.

One-day turns into the next; we get up late and fish late. This year the majority of the Steelhead were not in the river yet. The cold spring and lack of rainfall generating low water conditions. We still managed to land 5 or 6 fish each day. After four days into the trip the fish finally arrived, hundreds maybe even a thousand. Many times during the last two days it was not uncommon to look down river and see Brad, Bob, or Kevin with a fish on.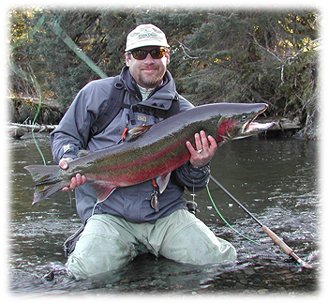 On the second to the last day Brad and I were walking out as we did each evening with the purpose of heading for our favorite end of the day runs. When across the river a huge male lying in a run feeling secure from a downed tree was calling my name. We sized it up, and Brad generously said, "go get him" -- after three casts "fish on" and a big one at that. Just by the sheer size I barely maintained control trying to lean hard and not break the tippet. Up river Bob and his son Kevin were walking towards us laughing from the long hike that day; they could see I had a hooked a big fish and rushed over to cheer me on. For twenty minutes it was touch and go; finally this fish gave in and I landed it with help. This big buck measured 39 1/2 inches with a s.w.a.g guess of 25 pounds. A fish of a lifetime, after four years of fishing this would be my biggest. Each year someone lands a 39-inch fish, but we have not broken the 40-inch mark yet. This gives us a reason to return. After six full days of fishing we landed many bright fish each over 35 inches.

Alaska, a trip of a lifetime has turned into an annual event. How lucky am I. The southeast portion is still a beautiful wilderness area full of life and a small footprint from man. With the foresight of some good people, and lessons learned from the lower 48 we can keep this treasure for everyone to enjoy fishing the wild steelhead.
Todd Petersen
(Fellow steelheader)
---

Alaska Flyfishing Online
All Content Copyright ©1996-2003
Visual Media Design, Alaska Outdoor Journal, Alaska Flyfishing Online
All Rights Reserved